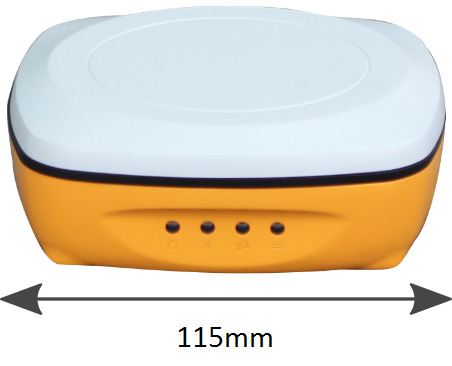 METEOR
S680P is the name of the new Ruide GNSS rover receiver. Based on the latest generation multi-constellation Trimble BD930 OEM board, this new project brings the integration of GNSS receivers to the highest level for performance and compactness. The RUIDE Meteor GNSS rover receiver measures 115 x 115 x 40 mm3 and weighs 500 grams.
GNSS POSITIONING
GNSS Meteor was designed and built to operate as an NRTK rover working in connection with permanent networks (CORS). Corrections are sent to the receiver via Bluetooth connection (versions 2.1 and 4.0 are supported) or WiFi (IEEE 802.11g standard).
Ruide Instrument has developed this solution to reduce the size of the instrument and increase its autonomy.
Besides operating in differential mode on the carrier phase, GNSS rover Meteor can work on the C / A code L1 and L5 in SBAS mode for submetrical positiniong: this additional functionality allows to operate with decimetric sqm in the absence of differential corrections for RTK for fast applications and for data collection (SIT / GIS areas).
Channels
220 channels supporting a wide range of satellite signals: Navstar-Gps, Glonass, Galileo, SBAS, Beidou (Compass) e QZSS.
Internal antenna
The internal antenna gives an excellent tracking ability with outstanding precision and stability. At the meantime, multipath interference is greatly reduced.
Hardware
Got frustrated by buttons and lights? has only 2 buttons, 1 I/O interface, and 4 indicator lights to satisfy all operation for your job. Within 3 minutes, you can get your work started on the field.
WIFI
WIFI module enables connection with Android cell-phone and tablets, and also WIFI to get Internet differential corrections from CORS. The Bi-module Bluetooth realizes fast connection with controllers as well.
SSD
Equipped with an 8GB SSD, can essentially improve data management efficiency and provide enough storage space during continuous work. It also supports an external USB storage for data transfer.