The new full GNSS receiver RUIDE R90i neo is the most performing and economic product available on the market for surveyors who are looking for a reliable, high-performance solution at a very affordable price.
The new full gnss receiver RUIDE R90i is equipped with a last generation 692 channel board that enables R90i to support a wide range of satellite signals, including GPS, GLONASS, BeiDou, Galileo, SBAS, etc, with greater stability and positioning accuracy. Thanks to this board it is possible to reach the "fixed" solution with impressive speed, even in very obstructed places, where previously it was not even possible to think about obtaining precision positioning.
Thanks to the Galileo and BeiDou satellites, in addition to the well known GPS and GLONASS satellites, the field of use of these new gnss receivers increases substantially improving also the performances.
GNSS receiver RUIDE R90i neo is supplied with GSM / GPRS 4G modem and with UHF Rx / Tx radio with Trim Talk 450s protocol, so it can be used indifferently in NRTK rover or base / rover configurations; this is very important considering that in almost all gnss receivers offered by competitors, the UHF radio option (if provided) is an additional cost.
While waiting for receivers that are part of permanent station networks will be replaced with new models able to transmit differential corrections also Galileo and BeiDou, the advantages assured by a receiver with this feature are relevant, as well as ensuring the possibility of precision positioning, even in the absence of connection to the network due to the lack of a telephone signal.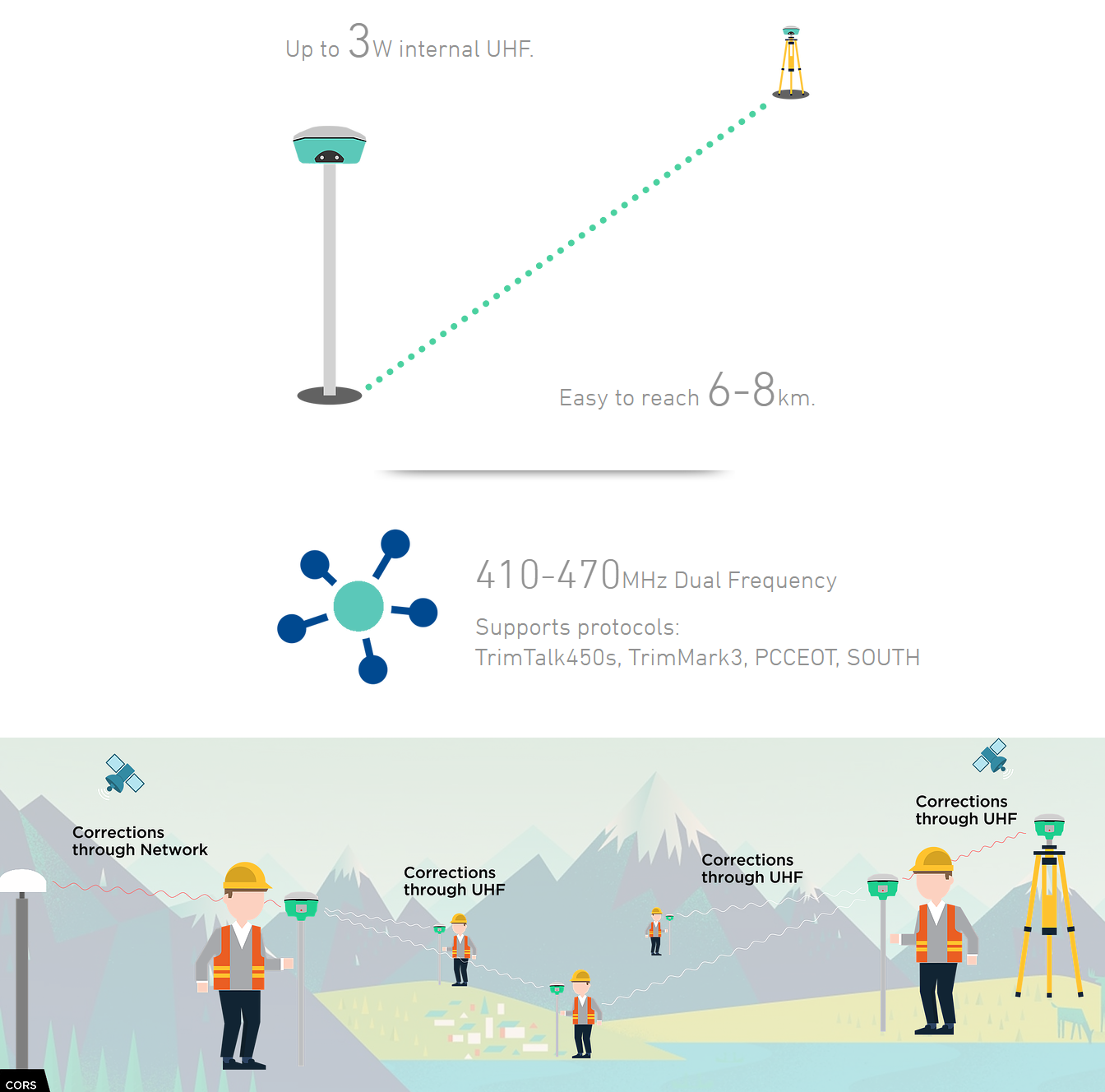 Another important aspect that we found in the innovative data-link of the gnss receiver RUIDE R90i neo is that in addition to the conventional UHF and Network Datalink connections, it can also work as a radio repeater, router or even a mobile reference station providing differential correction to many other receivers.
The gnide RUIDE R90i receiver is equipped with a "Dual-Battery Hot-Swapping" power supply system: it simultaneously mounts two removable batteries 3400mAh each, which can be replaced even when the instrument is on, providing uninterrupted work continuity.
Equipped with the latest generation Linux operating system, the gnide RUIDE R90i receiver is provided with a web-server on board, which allows access to the management platform via browser from smartphone or tablet, without the need to connect it via cable to a PC.
RUGGED TABLET FieldPad8 DESIGNED FOR THE MOST DIFFICULT CONDITIONS
RUIDE R90i neo GNSS system rover or base/rover is supplied with a control system based on Rugged Tablet FieldPad8 with Win10 operating system and Carlson SurvPC field software Vers.6.xx
In order to eliminate the typical limitations of the handheld controllers based on WinCE and Win Mobile operating systems, it was decided to manage the RUIDE R90i GNSS receivers with an extremely robust 8″ Win10 tablet equipped with a powerful processor able to bring in field all the power of your PC office.
A cartographic base, even of large dimensions, in raster or vector format, can be imported on FieldPad8 Rugged Tablet in a few seconds, via a USB key.
The dimensions of the 8″ color display make possible to take full advantage of the high graphic functionality of Carlson SurvPC software, which is equipped with all the elements of a real topographic CAD.
Carlson SurvPC Vers. 6.xx is the most widespread Software Field in the world, designed and developed by those who measure, for those who measure. Available in a big number of languages and able to support most of the hardware on the market (gps-gnss receivers, mechanic and robotic total stations) Carlson SurvPC is considered the most versatile and reliable software product by topographers of all nationalities.
The GNSS RUIDE R90i systems with FieldPad8 and Carlson SurvPC are covered by a 3-year warranty.