Parrot ANAFI THERMAL is an ultra compact professional thermal drone suitable for the needs of all professionals. With ANAFI THERMAL it is possible to perform thermal surveys, identify heat dispersions and perform monitoring on any structure without having to use expensive scaffolding.
With ANAFI THERMAL it is also possible to monitor heat points at a safe distance and decide how to better manage and coordinate intervention teams. Furthermore, using images in 4K and thermal images, the search for people in rough areas is also faster and there are no risks for personnel involved in rescue activities.
With ANAFI THERMAL it is possible to quickly identify a power supply fault of a high voltage cable or to identify a defective solar panel.
ANAFI THERMAL is equipped with two high precision cameras to film both the visible and the invisible:
a FLIR® radiometric thermal camera to measure and detect thermal differences
a 4K HDR camera with a 21 MP Sony sensor dedicated to visual inspection.
THERMAL CAMERA
A FLIR Lepton 3.5 thermal-imaging camera module, a market-leading product, is integrated into ANAFI Thermal's gimbal.
Hot spots, cold spots, thermal leaks, etc.

FLIR Lepton 3.5 microbolometer (radiometric)

Precision of ±5% max.(High-gain) or ±10% max.(Low-gain)

Dynamic Range: -10° to +140°C (High-gain) or -10° to +400°C (Low-gain)
4K CAMERA
ANAFI Thermal is equipped with 4K HDR camera with 21MP Sony sensor and allows to inspect a building, capture illustrative elements of the state of a structure or carry out 3D modelling.
Sony® CMOS HDR sensor 1/2.4'' 21MP

ASPH wide angle lens f/2.4

23-69mm (photo), 26-78mm (vidéo) in 35mm equivalent focal length

Lossless zoom x2.8 (x3 in standard mode)

Adobe DNG/RAW and P-LOG professional formats
180° TILTING CAMERAS AND X3 ZOOM
The gimbal tilts vertically to +/-90°. Using thermal imaging and RGB, you can inspect right underneath structures in zenith view or roofs and flat surfaces in nadir view.
Thanks to X3 zoom, you can see a flyover building or area in details with complete safety.
FreeFlight 6 app allows you to easily switch from RGB view to  thermal view or merge the two for a perfectly readable and comprehensible rendering of everything. The details of the scene are visible and coloured to reveal the thermal differences and the areas of loss. 3 groups of settings are available:
Relative: displays the range of temperature differences, from the hottest to the coldest
Absolute: set the range of temperature values
Spot: only the hottest or coldest spots are isolated
In just a few seconds you can share photos and videos with customers, collaborators or partners. Replay videos and change the range of settings to isolate one element or analyse temperatures. Compatible with the FLIR Tools® software solution, you can prepare inspection reports in PDF format.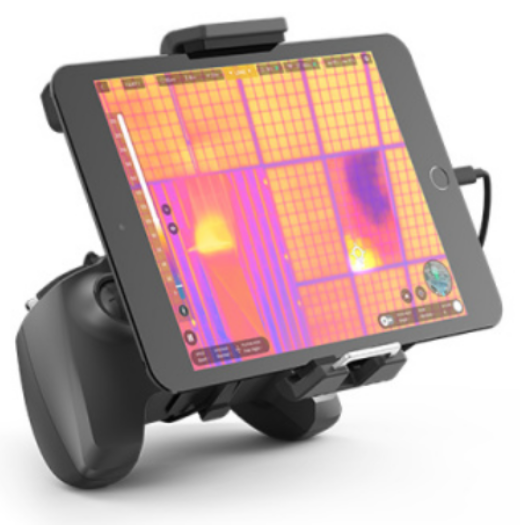 ANAFI THERMAL DRONE
Weight: 315 g
Maximum transmission distance: 4km with the Parrot Skycontroller 3
Maximum flight time: 26min
Maximum horizontal speed: 34mph
Maximum vertical speed: 4m/s
Maximum wind resistance: 31mph
Maximum working altitude: 4,500m above sea level
Operating temperature: from -10°C to 40°C
DIMENSIONS
Folded: 218x69x64mm
Unfolded: 241x315x64mm
SENSORS
GNSS: GPS + GLONASS
Barometer and magnetometer
Vertical camera and ultrasound sensor
2×6-axis IMU
2×3-axes accelerometer
2×3-axes gyroscope
IMAGING SYSTEM
Sensor: CMOS 1/2.4″, 21MP
Video format: MP4 (H264)
HDR: 4K UHD, 2.7K et 1080p videos, JPEG photos
Photo formats: JPEG, DNG(RAW)
Photo modes: single, burst, bracketing, timer and panorama
Shutter speed: from 1 to 1/10000s
ISO: from 100 to 3200
EV compensation: [-3, +3]
Maximum video sampling rate: 100Mbps
LD-ASPH LENS
f/2.4 aperture
Depth of focus: 26mm (35mm equivalent)
Depth of field: 1.5m to infinity
DIGITAL ZOOM
Lossless: up to x2.8 (FHD), up to x1.9 (2.7K), up to x1.4 (4K UHD)
Standard: up to x3 (all resolutions)
PHOTO RESOLUTION
Wide angle: 21MP (5344×4016) / 4:3 / 84° HFOV
Rectilinear: 16MP (4608×3456) / 4:3 / 75.5° HFOV
VIDEO RESOLUTION
4K Cinema (4096×2160 24fps)
4K UHD (3840×2160 24/25/30fps)
FHD (1920×1080 24/25/30/48/50/60fps)
HD (1280×720 48/50/60fps)
HFOV video: 69°
THERMAL-IMAGING CAMERA
Sensor: FLIR Lepton 3.5 microbolometer (radiometric)
Sensor resolution: 160×120
HFOV: 57°
Pixel pitch: 12µm
Spectral band: 8-14µm
Thermal sensitivity: <50mK (0.050°C)
Photo format: JPEG
Photo resolution: 3264×2448 (4/3)
Photo modes: Single / Time-lapse / GPS Lapse
Video format: MP4 (H264)
Video recording resolution: 1440×1080, 9fps
Precision: ±5% max.(High-gain) or ±10% max.(Low-gain)
Scene Dynamic Range: -10° to +140°C (High-gain) or -10° to +400°C (Low-gain)
Video: MP4
PARROT SKYCONTROLLER 3
Folded size: 94x152x72mm
Unfolded size: 153x152x116mm
Weight: 283g
Transmission system: Wi-Fi 802.11a/b/g/n
Operating frequency: 2.4 – 5.8 GHz
Max. transmission distance. : 4km
Resolution of the video return: HD 720p
Battery capacity: 2500 mAh 3.6V
Battery life: 2h30 (Android) / 5h30 (iOS)
Compatible mobile devices: Screen size up to 10″
USB ports: USB-C (Charge), USB-A (Connection)