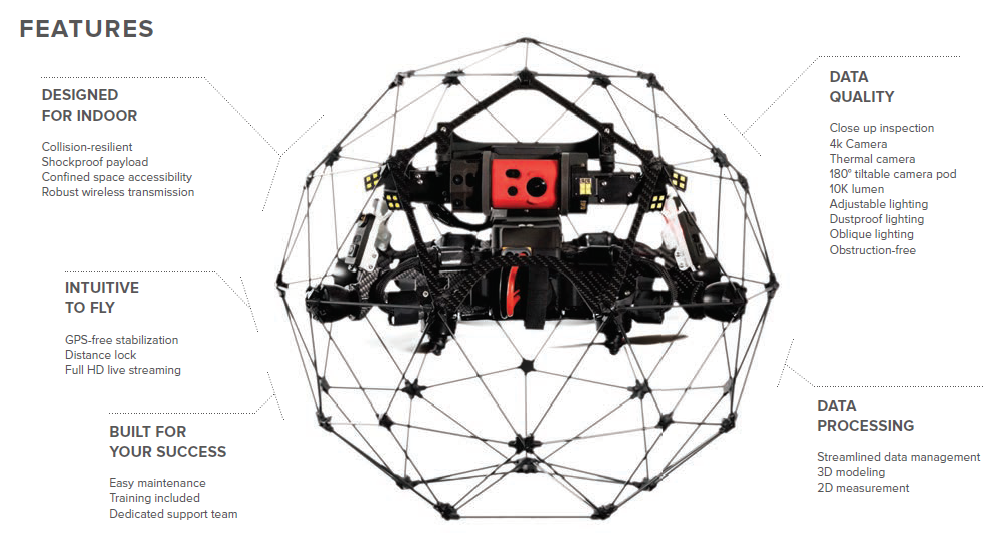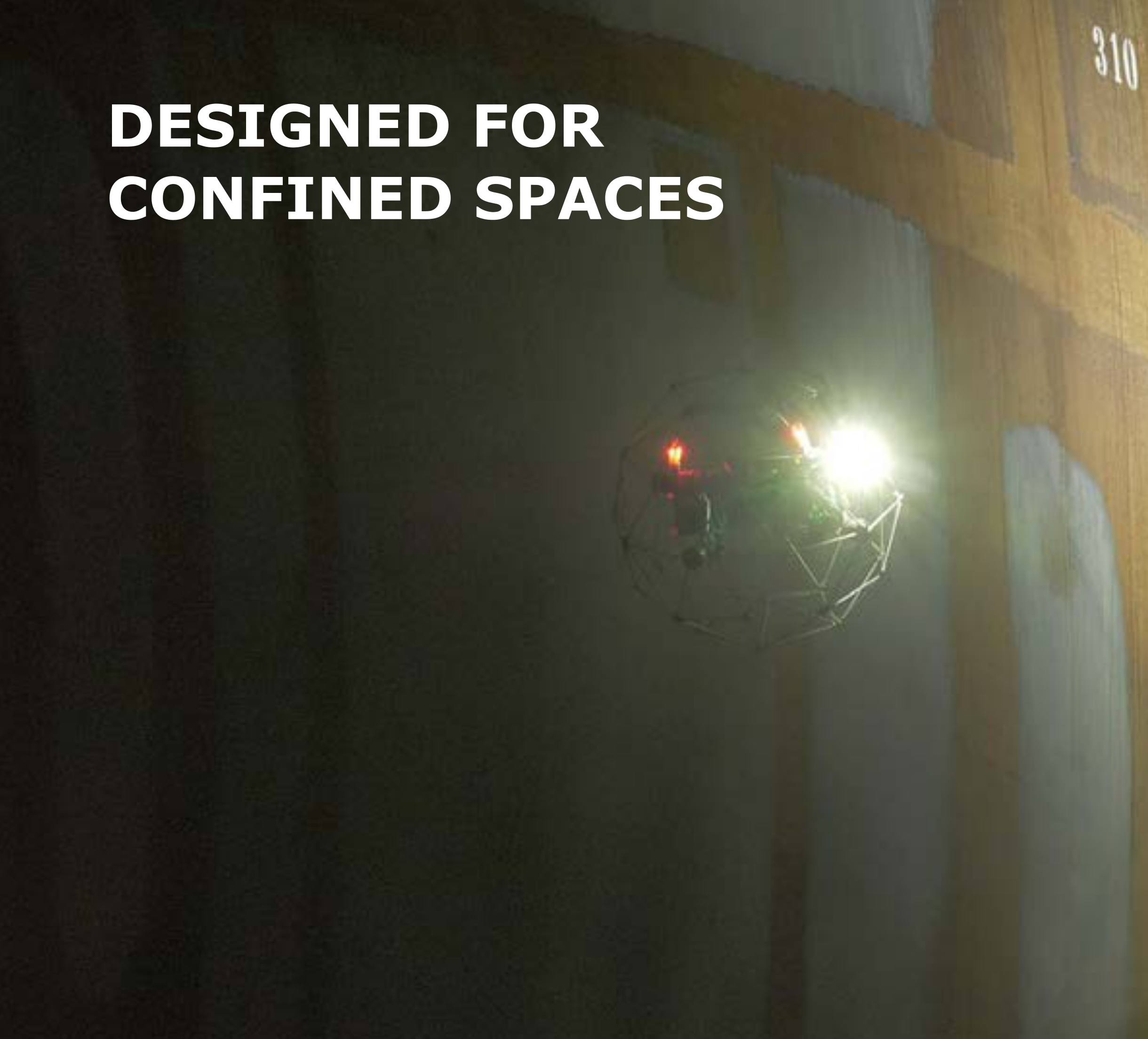 We believe that robots should be sent in dangerous environments instead of people. Reinventing collision resistance, Elios 2 allows you to capture every corner and centimeter of the most complex and remote place from a secure location.
COLLISION RESILIENCE
With a spherical cage protecting propellers from impacts, Elios 2 remains always stable through lightning-fast corrections on the propellers' speed and direction of rotation. The entire payload is mounted on a retractable structure that protects it from damages in case of frontal shocks.
ACCESSIBILITY
With an overall dimension just below 40 cm (15.7 in) Elios 2 fits into standard manholes and can enter any space where an inspection is needed. It can safely and easily be flown into assets without any human access needed; at no point do workers need to enter the space during the inspection.
ROBUST TRANSMISSION
Perform remote inspections beyond line of sight, through walls and past obstacles with Elios 2. Its wireless transmission system overcomes the needs of indoor configurations and is compatible with the Range Extender for the most complex setups.
Elios 2 intuitive flight experience makes anyone feel like a seasoned pilot from the first flight. Perform flawless inspections with an effective and user-friendly tool, deployed within minutes.
GPS-FREE STABILIZATION
Take razor-sharp close-up images in GPS-denied environments, in dark and troubled air flows, beyond line of sight. Elios 2 features 7 stability sensors specifically designed for indoor allowing it to hover in place and easily navigate through unstructured spaces
DISTANCE LOCK
Perform smooth inspections of long and repetitive features like welding, or beams. With the distance lock, Elios 2 remains at a set distance, ranging from 30 cm to 200 cm (1 – 6 ft) autonomously.
LIVE STREAMING FULL HD
Experience a greater situational awareness and perform live inspections in First-Person View (FPV) thanks to the increased details of the Full HD live streaming built into Elios 2.
THERMAL & 4K CLOSE-UP INSPECTION
When it comes to visual inspections, data is what matters. So, we've placed Elios 2 payload in the front cage-opening, fitted with a thermal and a 4K camera side by side. 12MP still and video recording gives you stunning detailed images with 0.18 mm/px resolution to spot the tiniest cracks from floor to ceiling.
10K LUMENS
The Elios 2 features the most powerful and intelligent lighting system ever built on a commercial drone. Carrying 10'000 lumens of light, adjustable to your needs, Elios 2 provides the right amount of lighting whether you need to see the big picture or the tiniest crack.
.
DUSTPROOF LIGHTING
Industrial indoor spaces are often full of dust, which makes First- Person View aircraft navigation di¡cult. Dustproof lighting allows you to traverse dirty places without losing sight of your objective.
OBLIQUE LIGHTING
To reveal textures and identify defects, inspectors use a lighting technique that creates shadows in asperities. Reproducing this technique with our new oblique lighting systems, looking for pitting, cracks, or build-ups becomes as natural as doing it with a flashlight.
FROM PLANNING TO REPORTING
Cockpit 2.0 has been designed to let you prepare your inspection reports on the fly. Once your mission is completed, simply connect Elios 2 to your computer using the USB port fitted on the drone to import all of your work into Inspector 2.0. From there, you will be able to further investigate captured data, document findings, and create reports.
3D MODELING
Change the way you deliver, visualize, and interpret data by building 3D models. Using third-party photogrammetry software such as Pix4D Mapper or Agisoft Photoscan, Elios 2 enables the creation of digital twins which reveals details of your assets.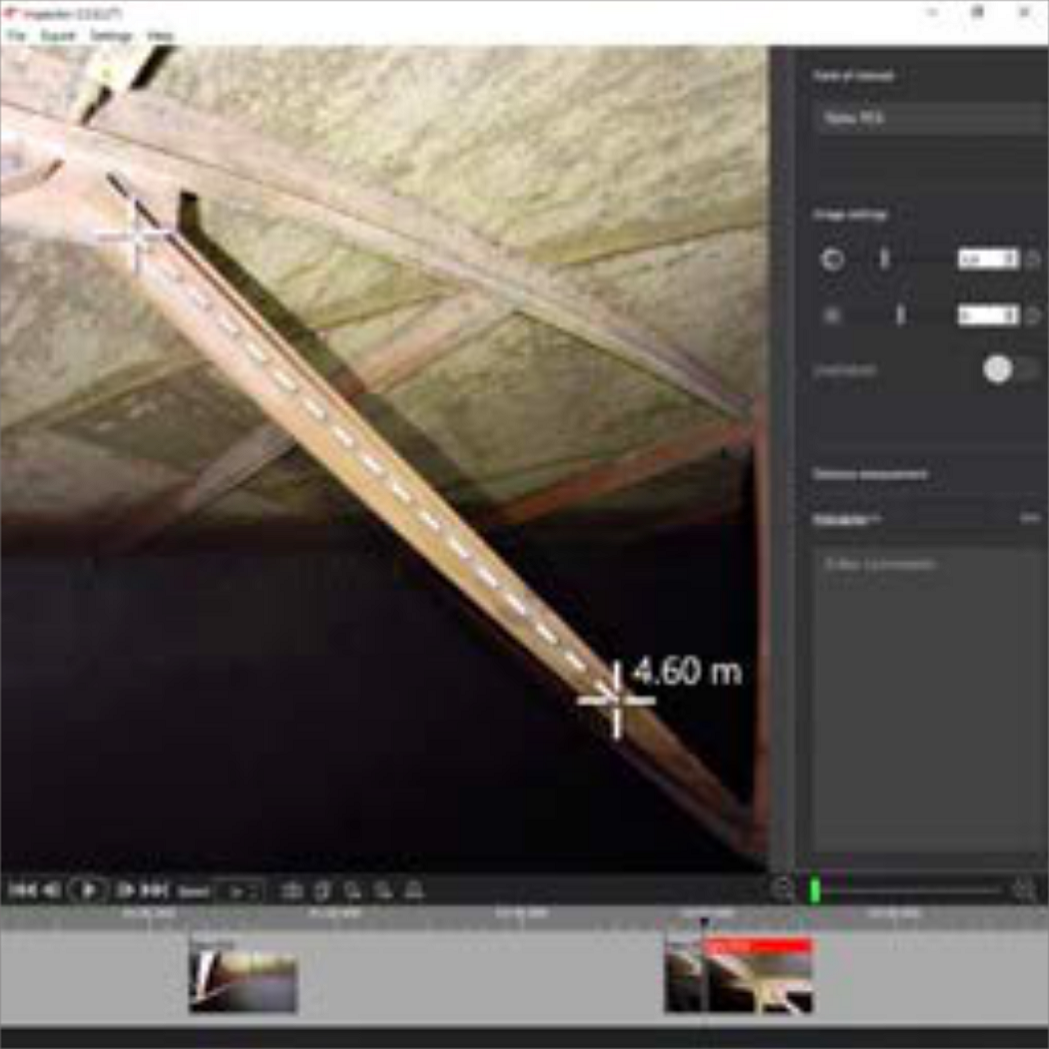 SIZABLE INSIGHTS
Turn visual information into insights by adding figures to features. During data processing in Inspector, simply draw a line on the image and you will get a 2D measurement.
TRAINING INCLUDED
Because we want you to make the most out of your drone, one full day of training is offered with each purchase of a unit
EASY MAINTENANCE
Elios 2 is engineered to be easily serviceable, minimizing the reasons to ever send your drone back to Flyability.
DEDICATED SUPPORT TEAM
For any assistance, in the field or at your office, our dedicated support team will travel the world for you.