senseFly eBee X
____________________________________________________________________________
Fixed-Wing Drone
Full automatic and easy to use, eBee X è the fixed-wing drone perfect for all your mapping needs.
Designed to improve quality, efficiency and safety of the data collection, is equipped with a camera able to adapt to any type of work and provides the accuracy and coverage necessary to meet the needs of each project; it can also work on any tipe of site.
Efficient & Precise
its unique Endurance Extension unlocks a maximum flight time of 90 min, up to 500 ha at 122m
Rugged & Reliable
eBee X allows you to work on every site – no matter how demanding – thanks to its landing technology, ultra-robust design, live air traffic data and more! all backed by senseFly's professional support.
Multi purpose
eBee X suits every job thanks to its range of cameras; these include the new senseFly S.O.D.A. 3D,  the best RGB photogrammetry camera senseFly Aeria X and the senseFly Duet T for creating geo-accurate thermal maps.
Specs  –  Click here to download the brochure
Maximum flight time up to 90 min
Wingspan 116 cm
Weight: 1,4 kg
Radio link range: 3 Km nominal (up to 8km)
cameras (opt): senseFly S.O.D.A. 3D, senseFly Aeria X, senseFly Duet T, Parrot Sequoia+, senseFly S.O.D.A., senseFly Corridor
GNSS grade: Survey
Flight planning & control software (supplied): eMotion
Cruise speed: 40-110 km/h
WInd resistance up to 46 km / h
Automatico landing with Steep Landing technology (5 m) accuracy in 35° angle cone
Real time kinematic/ Virtual base station
Oblique imagery
Max. flight range: standard: 47 km – endurance: 95 km
3D reconstructions – S.O.D.A. 3D
RGB map (left) merging into a senseFly Duet T thermal orthomosaic (right)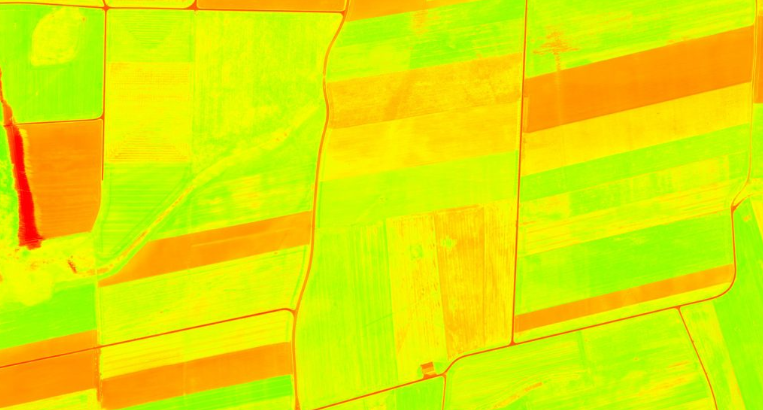 NDVI – MicaSense RedEdge-MX