PARROT BLUEGRASS FIELDS
The End-to-End Drone Solution for Agriculture
Parrot Bluegrass Fields is a complete, ready to fly, drone solution designed for precision farming
hat provides professionals with the knowledge they need to maximize production and improve the quality of their crops.
Drone Parrot Bluegrass

Parrot Sequoia multispectral sensor

14 MP RGB camera

ParrotFields mobile app to simplify the entire field workflow (one-year subscription)

Full access to Pix4Dfields desktop and cloud software for further in-depth analysis of the data collected (one-year subscription)
QUADCOPTER DRONE RUGGED, EAST-TO-USE AND EFFICIENT
Parrot Bluegrass Fields is a rugged and easy-to-fly quadcopter drone designed for crop mapping and aerial scouting.
Cover large fields up to 65 ha at 122 m or low altitude flight for a higher resolution up to 0.9 cm / px at 10m
Vertical take-off and landing (VTOL), this ensures efficient operation even in confined areas
Three batteries (25-minute flight time per battery)
Suitable for work in demanding environments thanks to Parrot Bluegrass robust, carbon-fiber structure
Intuitive Parrot Skycontroller 2
VERSATILE VISUAL SCOUTING & CROP MAPPING
Equipped with two integrated multipurpose sensors, Parrot Bluegrass Fields is the perfect professional drone solution for visual scouting and crop mapping.
Multispectral Parrot Sequoia sensor allows for highly accurate crop mapping:
Four multispectral mono-bands (Red, Green, RedEdge, Near Infrared), 1.2 MP, global shutter
Multispectral GSD of 11.5 cm/px at 122m flight height (or 2.8 cm/px at 30m)
Front 14 MP RGB Camera for fast and effective live scouting of problem areas, including the capture of photos and Full HD-quality video at 1080p.
IN-FIELD INSIGHTS WITH PARROTFIELDS MOBILE APP
Parrot Bluegrass Fields makes mapping and scouting easy and and very quick

Flights fully automatic or fly manually over your crops

Generate NDVI maps in real-time during flight

Get the data you need faster. Compare NDVI maps to monitor the evolution of your crops from the convenience of your mobile device

Explore areas of interest via Parrot Bluegrass Fields' unique semi-automated scouting flights

Capture photos and videos on-demand with the Parrot Skycontroller

Increase the value of the aerial data you capture by adding text annotations within the app and from the ground with the added benefit of taking GPS-tagged picture
IN-DEPTH CROP ANALYSIS WITH PIX4DFIELDS
Parrot Bluegrass Fields helps professionals make smarter decisions with greater analysis by providing full access to Pix4DFields drone mapping software for agriculture
Identify in-field variability faster with the new instant processing engine (process 50 ha / 123 ac in 1.5 minutes)
Generate predefined or custom index maps for detailed crop performance analysis
Visualize and understand crop trends by comparing different data layers side by side
Create comprehensive zonation and prescription maps for more precise fertilizer applications
Import or draw field boundaries and annotate crop 'focus areas' for a more in-depth inspection
Export prescription maps to your tractor or Farm Management Information System for seamless integration into existing agriculture workflows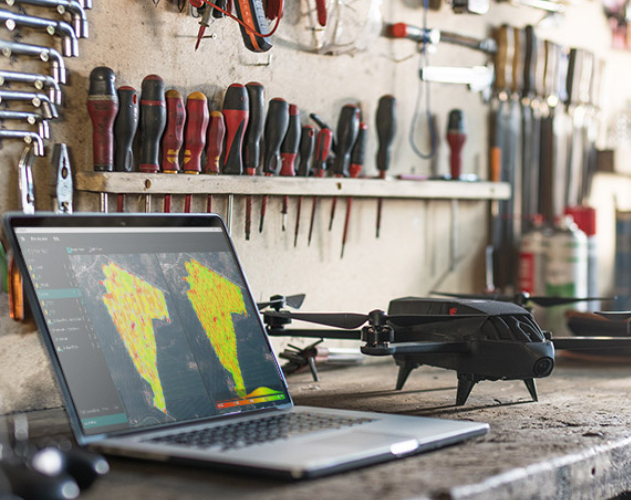 PARROT BLUEGRASS FIELDS: THE BETTER WAY TO WORK IN-FIELD
Fields is the only complete end-to-end drone solution designed from the ground up to make data collection and analysis quick, easy and efficient. Parrot Bluegrass Fields provides agriculture professionals with a better way to work, thanks to its combination of rugged drone, accurate sensors, easy-to-use mapping and scouting ParrotFields app and robust post-processing software for agriculture. Parrot Bluegrass