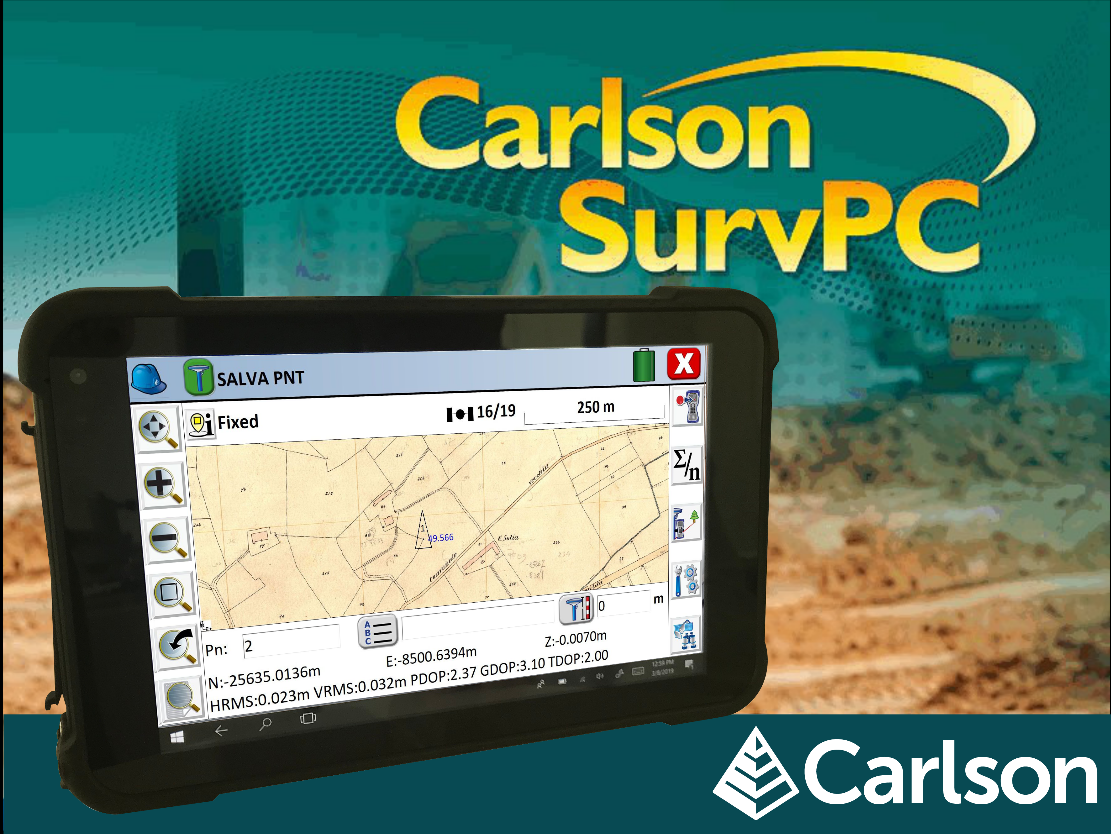 Have you got an old version of Carlson SurvCE for Win Mobile and would you like to update you GNSS system? Your controller (no matter what brand) is affected by age and wear?
Go to Carlson SurvPC Win10 version 6.xx
Not only for Microsoft's recent statements confirming that there will be no more developments on the Win Mobile platform but above all for the advantages that Carlson SurvPC Vers. 6.xx solution on Rugged Tablet 8″ allows to its users that we suggest to our customer to maximize the potential of their system by going to this new solution.
The power of processor that allows you to manage large graphic files, the wide 8″ display, the easy import/export of files via USB port, all this deletes distances between field operations and office data processing.
The Rugged Tablet FieldPad8 is designed to withstand the toughest working environments; it is robust and waterproof and resists falls from 1.80m from the ground.
A sturdy support with attachment system to the pole, complete the kit that helps to update the older gps-gnss systems.
Carlson SurvPC Vers. 6.xx supports most of the gnss systems, total stations and robotic total stations on the market and the new Hybrid module allows integrated survey between gnss and robotic total station.
SPECIAL OFFER KEEPING YOUR OWN CONTROLLER WITH CARLSON SurvCE *
| | |
| --- | --- |
| • | Carlson SurvPC GPS Vers. 6.xx |
| • | Rugged Tablet FieldPad8 |
| • | mounting kit |
€ 3.350,00 + IVA € 1.900,00 + IVA  
* Whatever your controller, keep it together with the license and buy the new kit
SPECIAL OFFER CONVERTING YOUR SURVCE LICENSE (any version) **
| | |
| --- | --- |
| • | Carlson SurvPC GPS Vers. 6.xx |
| • | Rugged Tablet FieldPad8 |
| • | mounting KIT |
€3.350,00 + IVA €1.650,00 + IVA 
** Keep your old controller, cancel the old license and convert it into the new one supplied with kit
Are you interested? Send us a message
We will reply to you as soon as possible