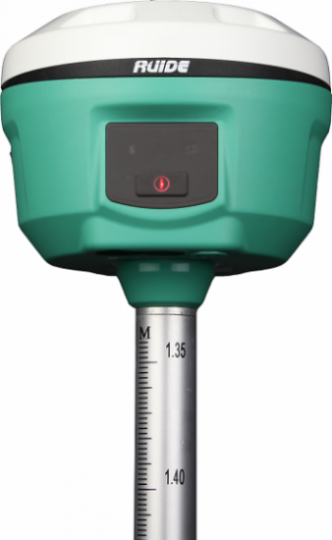 SMALL & LIGHT
Ruide Nova R6 is the smallest GNSS receiver currently existing on the market (12,9×11,2cm). Using aeronautical material Magnesium alloy with sophisticated industrial design, providing a unique advantage compared  to other materials: light weight, resistance to external impact and shock absorption, and good electromagnetic shielding.
INTELLIGENT PLATFORM
Nova R6 is based on an intelligent platform providing excellent solutions for the interaction between receiver and user such as power management, voice broadcast and self inspection.
TILT & BUBBLE
The internal tilt sensor will set you free from maintaining the pole strictly vertical. Tilt angle is allowed up to 30°. Built-in tilt compensator corrects the coordinates according to the direction and tilt angle. The internal electronic bubble sensor can display the leveling status of the receiver on the controller in real time. You don't even need a leveling bubble on the pole anymore.
CONNECTION
Nova R6 is equipped with Bluetooth 4.0 module, which supports receiver to work seamlessly with smart phone, tablet from Bluetooth 2.1 to 4.0, and also making Bluetooth communication faster and more stable. NFC is also avaible for fast connection.
GNSS + BDS
Nova R6 is equipped with mainboard OEM Trimble BD970 220 channels, designed to deliver centimeter accuracy to a variety of applications. That enable R6 to support a wide range of sattelite signals including  GPS, L2C e L5, SBAS, GALILEO GIOVE-A e GIOVE-B, E1, E5A ed E5B, BDS (BEIDOU)
TELEMETRY
Nova R6 is equipped with integrated dual telemetry, radio and gsm. Integrated with a powerful data-link system, R6 is compatible with current radio protocols in the market from 410-470 MHz, supporting all kinds of network types to access CORS seamlessly. The protocol can switch between TRIMTALK protocol and SOUTH protocol as needed. Is integrated also a module  gsm WCDMA 3.5G, GPRS/EDGE compatible.
WiFi
Nova R6 employs a wifi module which enables PC and cell phone to connect to the receiver and read the measuring data directly through Web Server.
Mandaci un messaggio Send us an email
We will reply as soon as possible